Domain Backorders
Getting your domain here at Name Captor is cheap and simple. You only need to open an account with us, deposit some funds, surf our expiring domains lists and request the domain you want. We will do the rest and our best to register it for you. Because we believe you deserve that domain.


Getting Started
Follow these simple steps and start catching awesome dropping domains at an awesome price!
1. Click on the Join Now button above.
2. Open an account with us.
3. Confirm your email.
4. Check our Expiring Domains page.
5. Backorder the domains you want.
6. If we fail we'll credit your money back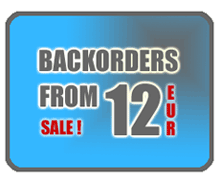 Lastest News
NameCaptor now in Spanish!
After some weeks of work and due the amount of Spanish customers using our system, we have launched a Spanish Beta version of our site. You are right, now we have "captura de dominios" also available!
NameCaptor moves to EURO
Starting today, NameCaptor will use EURO as its main currency for new users. Existing users will keep their accounts in USD until further notice. If you have any question about this change, please contact support.
NameCaptor is back
This week NameCaptor experienced some technical problems that forced us to close the site for some days. Now the issue has been solved and we are back online. Our apologizes for any inconvenience this has caused to you.